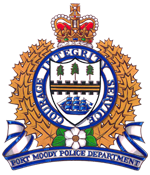 Port Moody Police Department
Media Release
DATE: January 21, 2018
SUBJECT: Pedestrian Struck by tree
FILE# 2018-363
On January 21, 2018, at approximately 9:05 AM the Port Moody Police were responding to the report of a tree down in the area of Oxford drive in Port Moody when the responding officer came upon a female pedestrian that had been struck by the branches of a falling tree in the area of Cecile Drive and Evergreen Drive.  A nearby Coast Mountain bus was also struck by the branches of the tree as it fell and struck the pedestrian walking toward the bus stop.  Several occupants of the bus exited the bus and were providing assistance as the police officer arrived.  Port Moody Fire Rescue crews and B.C. Ambulance service attended to assist in safely removing her from under the branches.
The 23 year old Port Moody resident was transported to hospital with minor injuries.
One lane of Cecile Drive was blocked while City crews removed the fallen tree.  No other damage was reported in this incident.
Port Moody Police have responded to six hazardous situations and wind related damage reports while Port Moody Fire Rescue have received approximately 32 reports of wind related incidents including power lines down and fallen trees.
Various road closures are still in effect throughout other areas of Port Moody while Hydro crews attempt to restore power.
Released by,
Sgt. Travis Carroll
Community Services Section
Port Moody Police
Email: media@portmoodypolice.com
3051 St Johns Street
Port Moody, BC V3H 2C4
Office 604-461-3456
Fax 604-937-1311