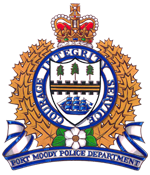 Port Moody Police Department
Media Release
DATE: April 12, 2018
SUBJECT: Fatality – Suter Brook Village
File # 18-1975
PORT MOODY – On April 12, 2018, the Port Moody Police responded to the report of an elderly male in medical distress.
Port Moody Fire Rescue and BC Ambulance Service arrived on scene and began performing life-saving efforts, however they were unsuccessful.
Port Moody Police investigators and the Forensic Identification Section attended, and the death was deemed as not suspicious. The BC Coroner Service was contacted and attended. Port Moody Police Victim Services attended to provide assistance to the family.
The Port Moody Police extends their condolences to the family in this time of loss.
Released by,
Sgt. Travis Carroll
Community Services Section
Port Moody Police
www.portmoodypolice.com
Email: media@portmoodypolice.com
3051 St Johns Street
Port Moody, BC V3H 2C4