Tri-City Speed Watch
The Tri-Cities Speed Watch Program began in 1992 after the King County Sheriff's Department in Washington State reported tremendous success with the program. The purpose of the program is simply to reduce the incidence of speeding in our communities by raising awareness of the problem. Speed does kill and it is apparent that people in our communities want this type of a deterrent program. Speeding is one of the top three crime prevention concerns of citizens, with home and auto security being at the top of the list.
Speed…Points to Ponder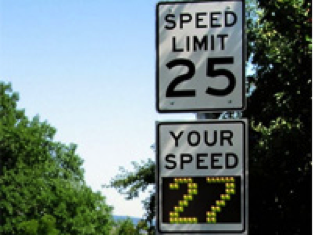 In BC, more than 11,000 crashes each year involve unsafe speed. More than 140 deaths and 5,200 injuries result from these crashes. Unsafe speed means more than exceeding the posted limit. It may be translated into following too closely, failing to yield, and driving too fast for conditions (weather, traffic flow, time of day, etc.)
The faster you go, the longer it takes to stop. It takes 13 metres to come to a complete stop when driving 30 km/h (on a dry, paved surface), but more than double that distance, 27 metres, when driving at 50 km/h. At 120 km/h, a vehicle will travel the length of a football field before stopping completely.
As speed increases, so does centrifugal force. Thus, at high speeds, safely negotiating curves becomes increasingly difficult. The faster you go, the harder you hit. Crashes involve intense forces as the energy of speed is released upon impact. The human body is a fragile structure which can sustain catastrophic damage when subjected to these forces.
Join the Speed Watch Trend!!
Government and corporate support for Tri-Cities Speed Watch has come from all three City Councils, both Police Departments, and ICBC to name just a few. Without this support the program would be unable to continue, as the van, radar, and other equipment all have substantial costs attached. But, even more important than the financial assistance are the volunteers, without whom the program could not survive. With police manpower resources stretched to the limit, these volunteers provide an invaluable service in traffic safety.
Are you at least 19 years old and a Canadian Citizen or Landed Immigrant, with a clean driving record? Tri-Cities Speed Watch volunteers spend a few hours a month making a positive contribution to their community's safety. Volunteers are given extensive training in operating the van, speed monitoring using the radar gun, and use of the speed reader board.
Contact
Tri-Cities Speed Watch
Community Policing Services Coordinator
Phone: 604-945-1586
Email: coquitlam_speedwatch@rcmp-grc.gc.ca