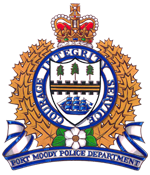 Port Moody Police Department
Media Release
DATE: August 22, 2017
SUBJECT: Theft from Auto Arrest
PORT MOODY – On June 21, 2017 a resident reported a theft from her vehicle while it was parked near St Johns Street.  A purse was stolen and the associated credit cards were used at businesses nearby.
An extensive review of video surveillance related to the fraudulent credit card use resulted in the identification of a suspect.
On August 17, 2017, The Port Moody Police Community Action Team (CAT) located and arrested Mandy Haley of Surrey for possession of a stolen credit card and unauthorized use of a credit card. Charges have been laid and Haley currently remains in custody. A search warrant was executed in Surrey in relation to this matter.
While not the case in the Port Moody incident, the surrounding investigation suggests that thieves are targeting vehicles parked at trail heads and in parks.  Often the vehicles windows are broken or unlocked doors are easily opened and items are quickly removed.  Police recommend that people ensure they lock their doors and do not leave anything of value in their vehicles. Wallets and purses are favourite targets as they contain personal information that can lead to further victimization.
Further Auto Crime prevention tips are available at http://www.icbc.com/road-safety/prevent-autocrime/Pages/Default.aspx.
If you have any information about this crime or other similar offences, please contact the Port Moody Police Department at 604-461-3456 or Crimestoppers at 1-800-222-8477 or visit www.solvecrime.ca.