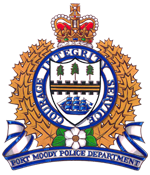 Port Moody Police Department
Media Release
DATE: July 14, 2017
SUBJECT: Residential break and enters
On June 7, 2017 the Port Moody Police Department responded to a complaint from a local citizen, in the Heritage Mountain area, who reported that he had just returned home to find that his house had been broken into. A patio door had been smashed and jewelry, cash, personal documents, and credit and debit cards had been stolen.
Investigators learned that two of the stolen cards had been used at Surrey businesses later that same day. Members attended those businesses, located video surveillance, and identified two suspects. A search warrant was executed at a Surrey residence a week later and the two suspects were arrested. Items from the break and enter were recovered in the home.
While conducting surveillance on the residence prior to the execution of the search warrant, members observed an unknown male leave the home. Although he was not relevant to the ongoing investigation, his description was noted by investigators.
Investigators then learned that while they were in Surrey, another break and enter was committed in Port Moody. The entry method was the same as the break and enter already under investigation.
Investigators were able to identify the male who had left the suspect home and found that he had an outstanding warrant for property crimes. Video surveillance was located near the second break and enter and the clothing observed on that video was consistent with the male seen leaving the suspect residence. A second search warrant for the home was sought and granted.
The male was arrested during the execution of the search warrant and items from the second break and enter were recovered in the home.
Subsequent investigation has resulted in the recovery of property from other residential break and enters. Much of this property has been returned to its owners and some was found to have significant sentimental value, including a watch that was given to a complainant by their grandmother 45 years ago.
A report has been submitted to Crown Counsel and a variety of charges are being considered. Aspects of this matter are still under investigation.