Persons of Interest
The Port Moody Police Department is providing the following information on individuals who we consider to be persons of interest.
Our Police Department continually strives to make our community one of the safest cities within the Metropolitan Vancouver. This success has been achieved through the support and assistance of the citizens we service.
Please telephone our Police Department if you have any information on the individuals below. We can be reached at 604-461-3456 or through our anonymous tip line at 604-937-1328. The number to Greater Vancouver Crime Stoppers at 1-800-222-TIPS.
CAUTION: Do not approach or attempt to interact with any of these persons of interest.
DISCLAIMER: The following photographs, video images, and information are provided to the general public to assist the Port Moody Police Department in locating or identifying persons of interest.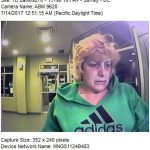 Fraud under $5000