TRAFFIC DISRUPTION NOTICE – Westbound St Johns Street and westbound Barnet Highway will be closed from approximately 09:30 AM on Sunday October 1st until approximately 11:00 AM for the Lower Mainland Christmas Bureau Motorcycle Toy Run. Please plan your route in advance.
Access to westbound Murray Street from Ioco Road and Murray will be restricted to residents.
Please detour to Pinetree Way and Lougheed Highway or Como Lake.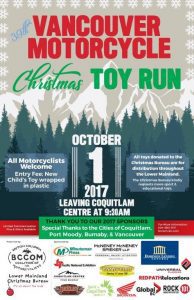 The closure extends from Coquitlam Center to Hastings and Renfrew in Vancouver.