DATE: August 9, 2017
SUBJECT: Credit Card Fraud
PORT MOODY – On March 29, 2017, Port Moody Police received a report of a residential break-in in the Glenayre area of Port Moody.  The resident's purse, which contained identification and credit cards, was stolen.
An in-depth review of CCTV footage was conducted, and the photographs below were obtained of an individual using the resident's stolen credit card a short time after the crime was reported.
The Port Moody Police Department is asking for the public's assistance in locating and identifying this male.
If you have any information about the identity or location of this male please contact the Port Moody Police Department at 604-461-3456 or Crime Stoppers at 1-800-222-8477 or visit solvecrime.ca.
Released by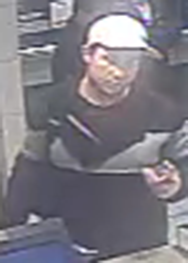 Sgt. Travis Carroll
Port Moody Police
3021 St Johns Street
Port Moody, BC V3H 2C4
Office (604) 461-3456
Fax: (604) 937-1311